One of my favourite albums ever is
Nas
's debut, "
illmatic
". I don't know what possessed me to buy that album, and when I first bought it I didn't really understand it. But a few years later I can understand why it has been hailed as the classic that it is - the in-depth stories of a young, articulate artist not trying to glorifiy himself but reflecting the gritty realities of his surroundings and simply making the best of what's been handed to him. Backed by some of the best Hip Hop producers of that time (Large Professor, DJ Premier, Pete Rock, Q-Tip) who delivered on bringing original, perfectly fitting beats that could nod heads or put minds at ease, it was an overall masterpiece. Even the only guest,
AZ
, rips it in "Life's A Bitch" with some of the best lines i've ever heard in any song. Unfortunately, as most Nas fans would know, "illmatic
"
was too good and ever since, everyone compares his output that has followed, trying to measure it up to the classic that it is.
What I think the problem with Nas and Nas fans are expectations and hype. This is my theory. Hip Hop fans love to hold Nas on a higher plateau, and this affects the quality of the output. So now on most Nas albums, you'll get a handful of nice songs but the rest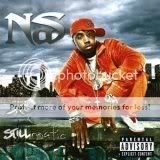 are damn near below average because he felt too much pressure to do something as good as "illmatic". Don't get me wrong though, I'm a big Nas fan myself and he's in my top 5 of most listened artists on Last.FM. But how do you explain that the three albums after Nas's debut had a similiar album cover and then when one finally got trashed by critics and fans, he came back with an album called "Stillmatic"? Hmmm. Anyway, on a lighter note, and to further my theory, this post is about "
The Lost Tapes
".
The premise of "The Lost Tapes" is a compilation of unreleased tracks from the aformentioned "Stillmatic" recording sessions or from the earlier double disc version of "I Am...". Unlike pretty much 110% of any other unreleased compilation that I have (which I hope isn't that many), this is actually good because five of the tracks aren't a remix or demo version of some old track that I've heard to death. No, why this album is so good and is actually better than some of Nas's studio albums is because it is made up off actual unreleased, unheard songs. And they're actually listenable. Some of these tracks are just crazy good such as
No Idea's Original
with a badass guitar and a bit of drum thrown in. It's great, and Nas raps about how pretty much everywhere, violence is happening for all the same reasons:
But it all revolve around drugs, fame and shorties

Stuck for your bling, stripped for your chain, the same story

From, Czechoslovakia to Texas metropolis

Them, treacherous rockstars in the Mexican mafias

Be scrappin with tats on they back, violent wars

Nothin less than a lethal injection if ever caught

Courtrooms, eagles and flags, American style

While in our world, the ghetto stays incredibly foul




That was one of my favourites of the album but there's many on there. You get a lot of political songs on the album like
Purple
and
Black Zombie
, as well as inventive narrative where Nas tells the tale as a drunk in
Drunk by Myself
and
Fetus
where Nas describes his experience while still being unborn. May sound corny but Nas being as literate as he is, he's the only one that could execute it seriously. The choice cut for this one will be "
Poppa Was a Playa
", funnily enough produced by then-unknown Kanye West, gets Nas recounting the ways his dad would sneak around with other women. Nas doesn't really sound mad at him and is more glad to have had him around. The beat isn't dark either but sounds celebratory, I find it just great to listen to.
The winning formula of "The Lost Tapes"? It was a compilation of unreleased tracks, and as most compilations suck in quality, there wasn't any expectations for this to be so great. Unreleased tracks are usually unreleased tracks for a reason. However, rather than being on of the few good songs on Nas's albums, he compiled them all onto this which somehow just made sense. "The Lost Tapes" is an oddity in that, and was a success in succeeding expectations.
Nas -

Poppa Was A Player




BONUS:



Real old school Hip Hop. This is the "Life's A Bitch" track I mentioned before where AZ drops some of the most memorable lyrics ever.


Nas (feat. AZ) -

Life's A Bitch
Scrobble Scribbler uses Last.FM and Last.FM's "Audioscrobbler" software. However, Scrobble Scribbler is not employed by Last.FM and thus views expressed by its author are not those of Last.FM. Join Last.fm
here